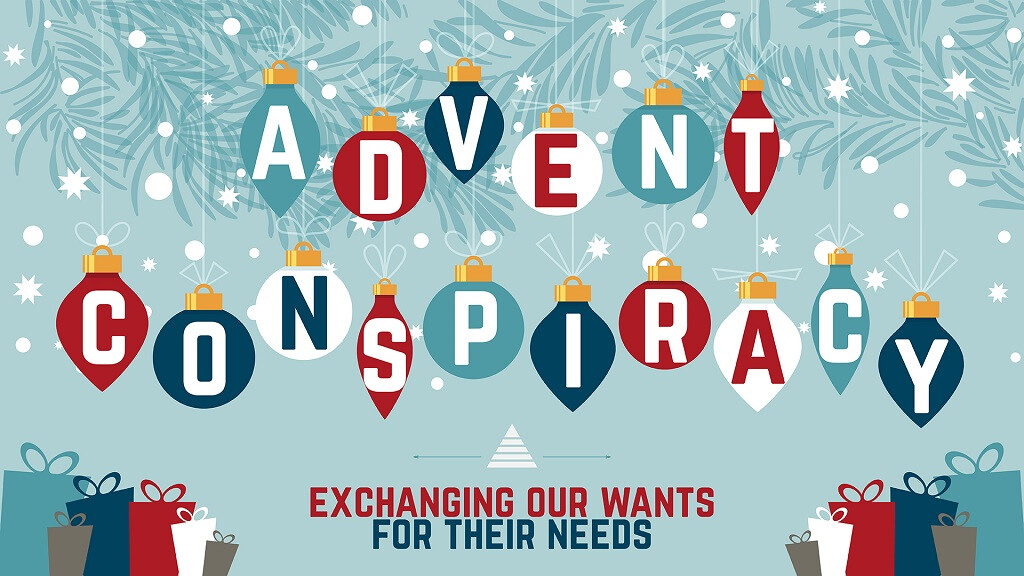 Advent Conspiracy Handout Advent Conspiracy Booklet
YOUR FAMILY CAN MAKE A DIFFERENCE THIS CHRISTMAS THAT WILL LAST ALL YEAR LONG!
Advent Conspiracy is a movement, pointing us away from ourselves toward others, away from consumerism toward a generosity that will make an eternal impact in really exciting ways. It is about meeting people's needs by giving a BIG Christmas gift together as a church family. Through a series of special projects identified by our global workers and strategic local partners, Trinity Church offers a way to bless others worldwide. This is an opportunity to be strategic, planning with others to play an important part in communicating Christ's love and grace during the holiday season.

It all boils down to love. Love from a Savior and to those around us in need. Exchanging our wants for their needs provides incredible gifts of blessing not just for the winter season, but for many it is a life-long testimony of God's amazing love for them. We get the privilege of being involved in that blessing!

Advent Conspiracy at Trinity Church invites everyone and their loved ones (kids, relatives, close friends, etc.) to join in the fun. We encourage everyone that normally exchanges gifts to share their opinions and choose a specific project from the list that resonates with their hearts.

The motivation and primary concern when considering which organizations to support is an opportunity to demonstrate God's love and the gospel of Jesus Christ. There are many 'good things' to be involved in, however, the 'Good News' of Jesus Christ is the most needed and the best gift we can give to others. Each of these projects selected will provide support for ongoing ministries, which have as their primary and ultimate goal to demonstrate the gospel both in word and in deed.
PLEASE PRAY THROUGH YOUR INVOLVEMENT AND HAVE AN INCREDIBLE CHRISTMAS SEASON!
$3,000 Beirut Summer Camp Scholarships
Provide scholarships that allow youth to afford and prioritize an overnight camp experience.
$1,800 Cal Poly Leadership
Multiply student leaders and create a core group of students who are able to share the impact faith has made in their life at college
and beyond.
$1,200 Kurdistan Elder & Pastor Training
Provide books and support materials to equip these future leaders and church planters.
$12,000 Mexico Loft House
Provide a new home to help make two families dreams come true next year.
$6,000 Portugal Global Worker Vehicle
Funding toward the purchase of a larger vehicle to accommodate Pavoni family and ministry.
$4,200 Romania Parent Training
Funding for production of new educational resources, providing support for parents in need.
$4,300 Turkish Language Marriage Book
Provide a Turkish-language resource on emotional and relational health in Christian marriages.
$2,500 Inherit the Earth - Homeless Outreach
Provide funds toward purchasing the property currently used for counseling and providing work skills.
$5,000 Light & Power - Disability Ministry
Continued funding toward social events and classes throughout the year that are accessible for all, including everyone's favorite night—the Light & Power Prom.
$2,000 Micah House - After-School Program
Provide scholarships for middle school students to attend and experience a life transforming week at Camp Pondo.
$3,000 Olive Crest - Single Moms Safe Housing
Provide 500 nights of safe housing for children to assist struggling single moms who are recovering from addiction or domestic abuse. Information Meeting
$5,000 Young Adults Conference
Provide funds to lower the cost for attending a young adults conference in 2024, that teachs, trains, and encourages young adults further as His ambassadors in their schools, jobs, homes, neighborhoods, and church.
Our goal is to fully fund all of these projects. In order to accomplish this, once a project has reached its specific goal, the excess funds will be applied to another project within Advent Conspiracy. When the total goal has been reached, excess funds will be used to support other ongoing ministries at Trinity Church.