Our Core Values
Just as everyone has basic, essential ideals that they generally live by, so an organization has core values that guide it towards its objectives. Trinity's core values are what we believe keep us on the path toward being and becoming the Rooted & Reaching church that Jesus has designed us to be.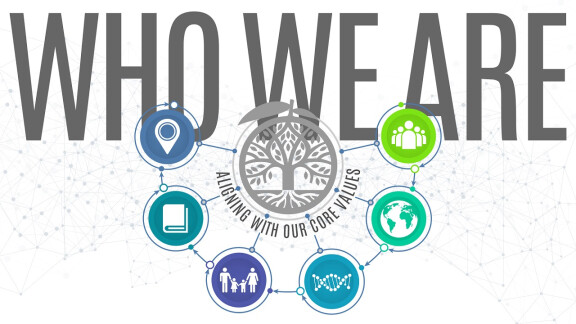 We pursue spiritual growth and life change in community
From the beginning, Trinity Church prioritized small groups of people regularly gathering in community. We pursue personal and family growth by following Jesus' call to build up each other in sacrificial love. We offer a variety of small groups and focus teams where we meet regularly to love and encourage each other and bear one another's burdens. It is in this rich community of doing life together that we experience God's love and grow in grace. A message about this Core Value.
John 13:35; 15:16-17, Galatians 6:2, Ephesians 4:11-13
You belong here
We practice the culture of intentional hospitality that Jesus modeled. We value His kind of unconditional love that invites the outsider to become part of His family. We believe you are intrinsically valuable as His creation regardless of your religious background or lack thereof, your abilities or disabilities, your ethnicity, or social and economic status. We long for you to belong to the family of God at Trinity Church—to come and grow and be transformed.
Romans 15:7, 1 Corinthians 12:27, Acts 15:6-11, Luke 15:1-7
You are designed with a role in mind
God designed the church to grow and mature as each believer does the work of ministry. He is delighted when you discover your unique, Spirit-given gifts and put them to use. In fact, you bring praise to God when you use your gifts to serve others. We will help you discover and develop your spiritual gifts for the good works to which you are called.
Romans 12:4-8, 1 Peter 4:10-11, 1 Corinthians 12:7, Ephesians 4:11-16
God loves your family and so do we
We value and invest in marriages and families. We believe families are the primary spiritual influence in shaping the next generation; therefore, we value moms and dads, single parents, blended families, grandparents, and everyone committed to pointing kids to Jesus! We value being an ally to help you disciple your kids, your grandkids, and the kids God has placed in your relational world. A message about this Core Value.
Psalms 145:4, Ephesians 5:22-6:4
The Bible is God's Story given to transform you and to be the authority in your life
At Trinity, we provide many opportunities for people to understand and be molded by God's character and nature as revealed in His Word, the Bible. This is because we believe the Bible is unlike any other book ever written, uniquely inspired by God. We believe that it has the power to transform the way we think and act. We also believe that it has ultimate authority over our lives, compelling us to ask the question: "What does the Bible say about that and how do I respond?" A message about this Core Value
Romans 10:14-17, 2 Timothy 3:16-17, Hebrews 4:12, 1 Thessalonians 2:13
Your calling is to influence your world with Jesus
We represent Jesus in all that we are and do. We will partner with you to reach your world; in this you are not alone. Our desire is that through living exemplary lives, demonstrating His love, and sharing the Good News, people will be convinced to know, love, and follow Jesus. A message about this Core Value.
Matthew 5:13-16; 28:18-20, 2 Corinthians 5:18-20, Colossians 4:2-6