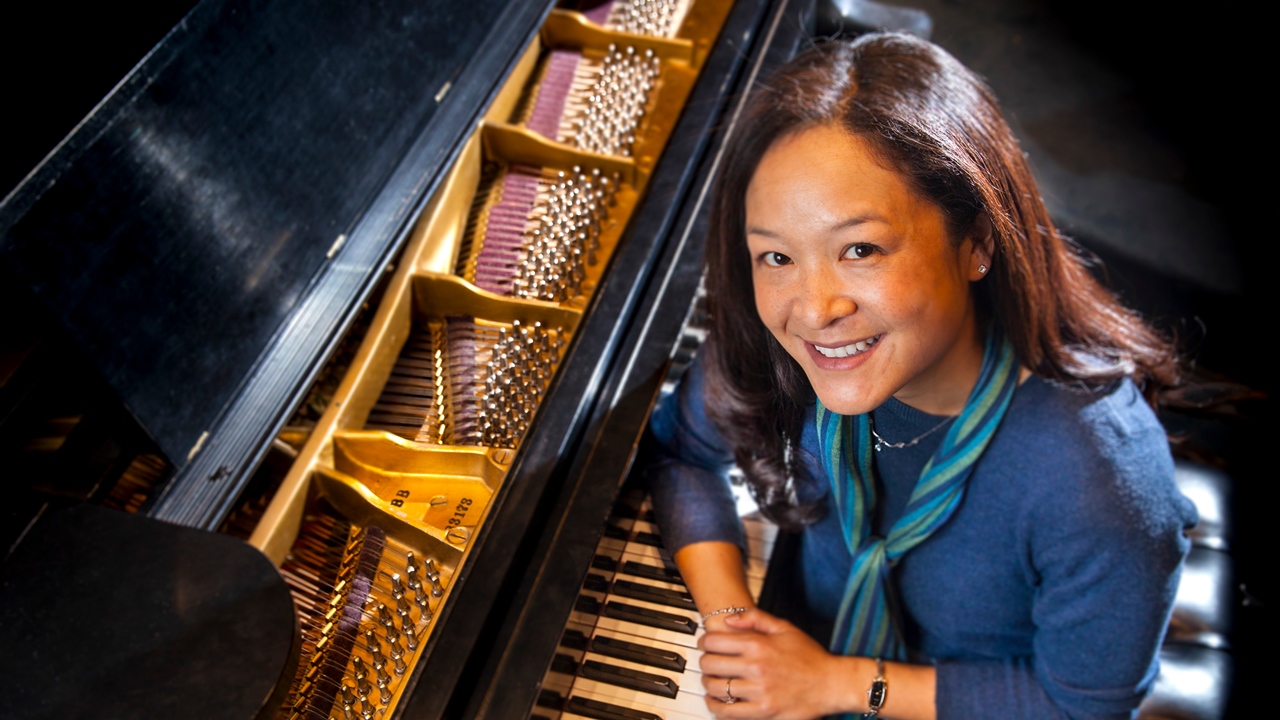 Grace Yu Carlson was born and raised in Michigan and went to the same elementary school that her future husband, Nathan Carlson, attended. During high school they began dating. They had many of the same passions: hiking, snowboarding, kayaking and enjoying the beauty of God's creation. They also shared the desire to go to dental school.
Grace and Nathan were deeply in love when they both decided to come to Loma Linda University Dental School in 1997. However, before moving to California, Grace's parents' wisely advised her to wait and not marry Nathan after her graduation. Wait they did, for eight long years!
Dental college is costly and Grace, being the "go-getter" that she is, put her natural entrepreneurship to work and became a snowboarding instructor during the winter seasons. She also loves helping others develop their sporting skills. For example she has volunteered at Yucaipa High School as a mountain biking coach. Presently, Grace is a 2nd degree Black Belt volunteer instructor teaching self-defense and martial arts. Grace is also a member of the American Christian Karate Association. Grace is adventure and motion personified! They were married in October 2002 and shortly after, Grace started their dental practice while Nathan finished up his education. She says, "We are partners in everything we do. We love the same things and I am so thankful for my wonderful supportive husband. His strong points balance out where I am weak."
Grace and Nathan knew the importance of being rooted in a solid, Biblical church, so they were thrilled to find Trinity. Not long after becoming members in 2005, Grace became actively involved through music. When seated at the piano, it is obvious that Grace is also passionate about her music.
Even after their children were born, they continued the activities they had always loved as young marrieds. Now, their boys, Micah 11 and Caleb 8, enjoy mountain biking in the Big Bear and Mammoth mountains during the summer. Part of the package for outdoor living for the Carlson family includes backpacking and kayak camping.
Living near Wildwood State Park has afforded Grace the unique link to incorporate her passion for nature walks and her thirst of knowing God more fully. As it says in Isaiah 30:15, "In repentance and rest is your salvation, in quietness and trust is your strength…" She adds,
"There is definitely something to be said about being still before God and the healing it brings."
Spending time with God, by talking to Him, or reading Scripture at the top of a mountain ridge heightens her sense of oneness with her creator, drawing her close to Him and giving rest to her soul after a tough working day.
Grace says, "In moments like that, God's grace speaks deeply to me, because I don't have to be 'the over-achieving Grace' as people tend to see me. With God, I can be 'the broken Grace' I sometimes am. And with God, I can rest assured that my identity is firmly planted in Him because of who HE is and what HE did, not because of who I am or my achievements. Being out in nature gives me time and space to be real and honest with God."
In Psalm 42:1 we read, "As the deer pants for streams of water, so my soul pants for you, my God. My soul thirsts for God, for the living God. When can I go and meet with God?" Sharing a journal entry with me Grace recounted, "I was hiking in Wildwood State Park and remember how depressed I was. I didn't even have words to describe how I felt. Shortly after that non-verbal prayer, a deer crossed my path a few feet ahead. Immediately, my thoughts jumped back to Psalm 42 – about the deer panting for water, and about how my own soul was dry and thirsty for God. It was one of those moments where I felt God was telling me, 'I understand. I know your thirst. You don't have to put it into words.'"
Grace adds, "Other times when I'm out in the middle of nowhere, I just break out in open praise and gratitude for who He is."