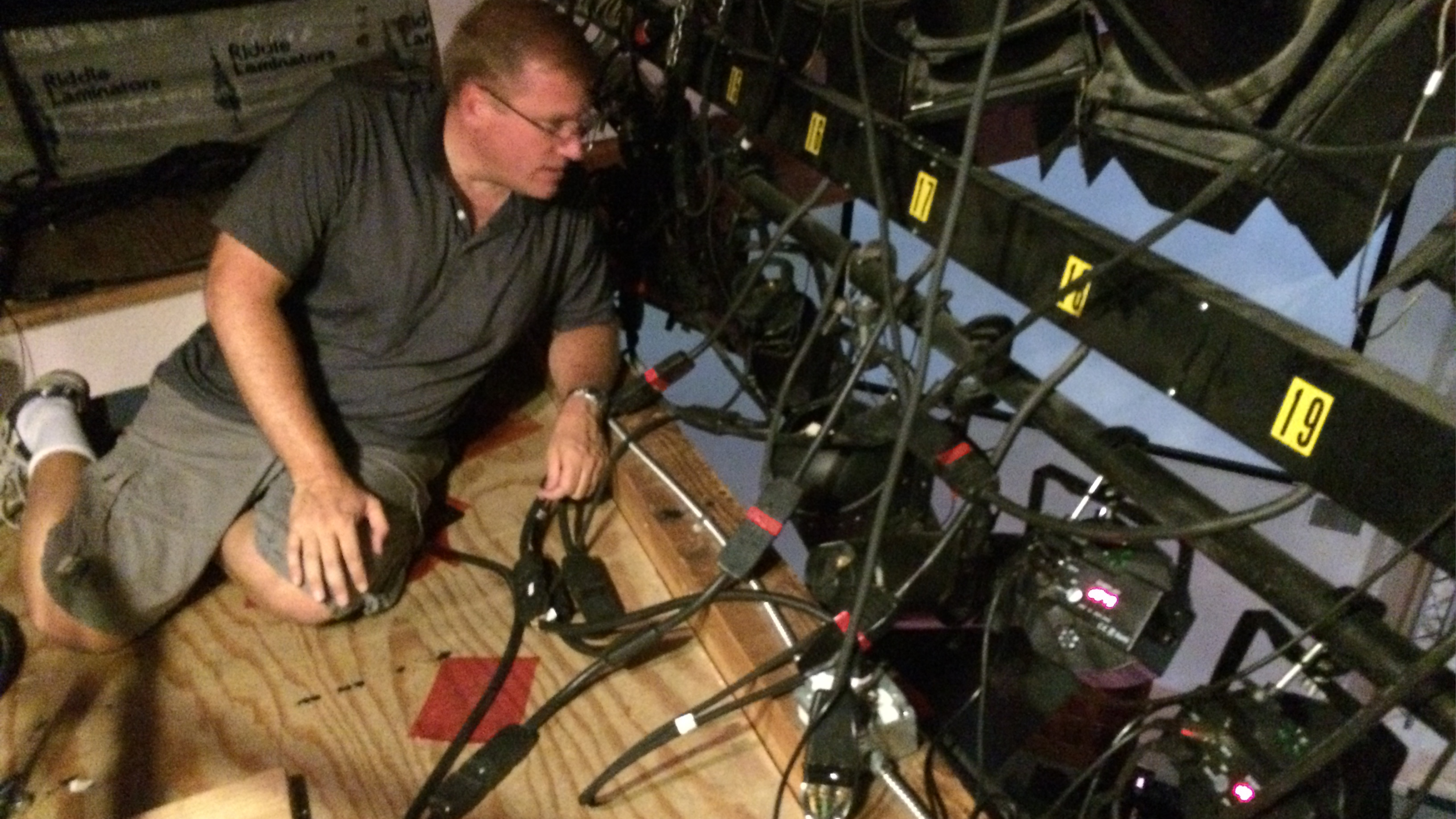 At 6'4", Henry Meinders stands out in a crowd. In conversation, though, he's less formidable. Calm and reserved, Henry listens more than speaks. Yet, spend any time in his presence and you'll discover this reserve belies a keen intelligence, an active curiosity, and a commitment to serving the Lord.
Henry began attending Trinity soon after the church moved to Reservoir Road. He wasn't at the church long before a family friend, the lead lighting technician, encouraged him to volunteer on her team. He had no prior experience or specialized skill, but he agreed to give it a try. He quickly discovered the job fit him well. He reflects, "I like doing it. I kind of gravitate towards behind-the-scenes stuff anyway, as opposed to up-front performing. And it was technical and I got to find out about how something worked in a way that no one else really knew." He learned to operate the board, to climb into the rafters to set the lights, and to program different lighting cues for each element of the Sunday worship service.
After mastering the technical elements, Henry began exploring more creative lighting techniques. And he discovered that the ultimate purpose of lighting is to facilitate worship. He believes that "if we're doing it right, it shouldn't stand out. Good lighting helps people be in the moment. The goal of making it right is that it's enhancing worship. It's not a show – it blends in. We make sure that everything that needs to be seen is seen and hopefully enhance the worship experience to make it better in subtle ways."
"The best lighting draws attention away from itself and onto the object it illuminates…"
Today's American culture does not value longevity. On average, workers spends 5 years at a job, the high percentage of marriages that fail will do so within eight or nine years, and even pastors stay less than a decade in one church. In the face of such short time spans, the ability to listen to God's leading and to serve on a long-term basis deserves attention. Almost 20 years after trying out the lighting ministry, Henry Meinders still serves at Trinity Church in that same capacity. On average, he spends one weeknight a month planning and setting up for the week's worship service and then operates the lighting that next Sunday morning. Additionally, he and the other lighting team members divide the lighting duties for various special activities held in the sanctuary. For Meinders, the job is about "reliability, commitment, and sacrifice."
Why does he still serve in this capacity and in this area? He acknowledges that, "It's a little bit of my nature that, once I've committed to something, unless there's a really compelling reason to get out of it, I tend to just keep doing it." He considers whether God might be leading him to serve elsewhere in the church; however, he hasn't felt called to other ministries and the need for his expertise on the lighting team remains constant. He states, "Maybe I keep serving where I'm serving because it's needed, and that's good."
In Meinders' opinion, the best lighting draws attention away from itself and onto the object it illuminates – like the man whose quiet, faithful, persistent service reflects not himself but the Lord he loves.
By Sheryl Gruenler