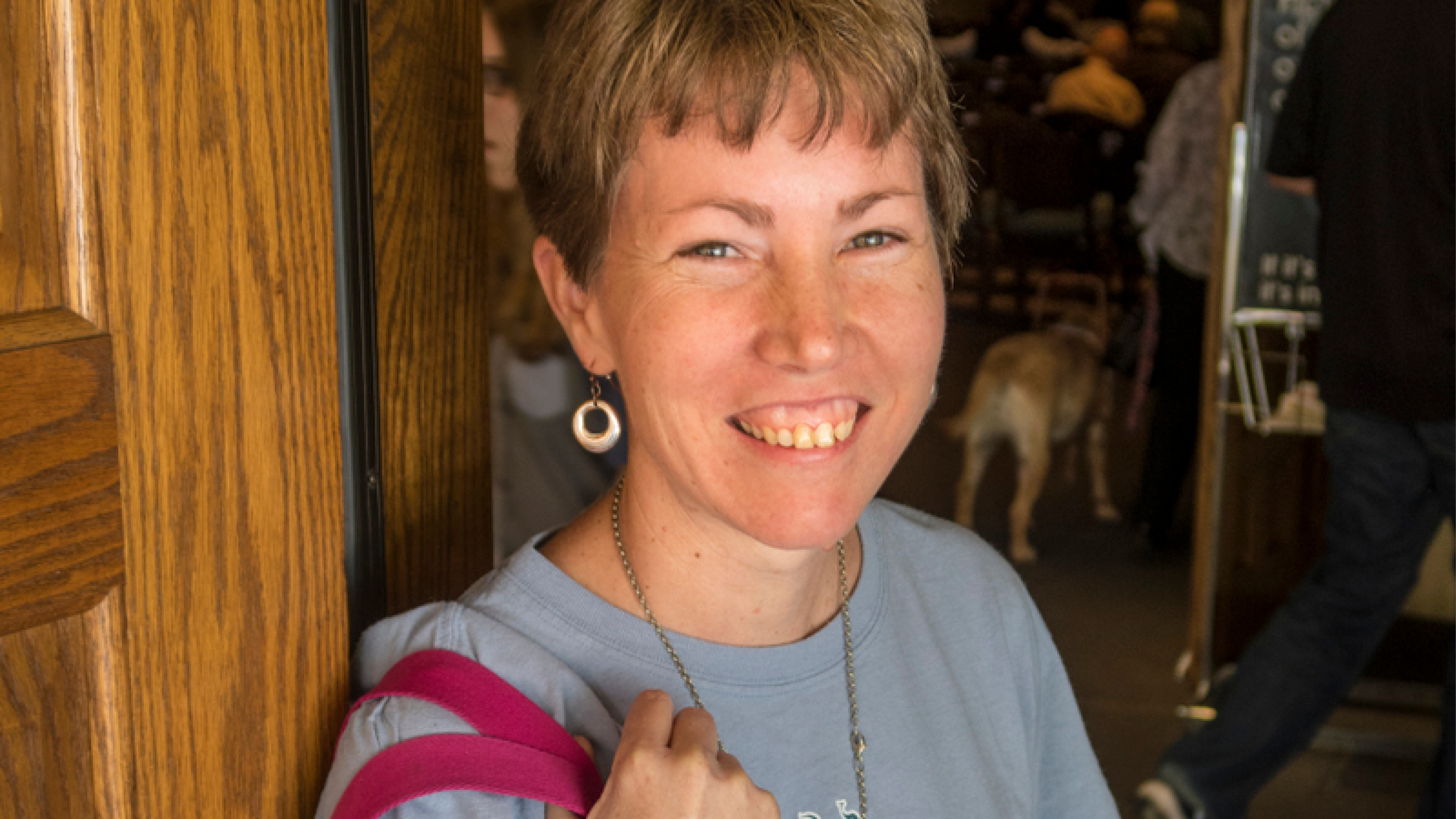 Meet Christa Peterson. I am honored to be her friend. Christa and I first met three summers ago when we volunteered at Camp TLC, Trinity's vacation Bible school. We both served on the "continuity" team, which meant that we helped to ensure that things ran smoothly.
One of our jobs was to organize the elective signs so that kids knew where to line up for each class session. Before every session, we used clothespins to hang each sign on a rope strung across the pavilion area, and then we took those down and replaced them with a new set as the day progressed. As soon as Christa and I figured out the best way to accomplish the task, we fell into an easy rhythm – Christa unclipped each sign and handed it to me to keep in order and then, once all were removed, we started back up the line with me handing her each new sign for her to
clip up.
The other job we shared was to supervise the "bucket room." Each camper had their own bucket in which they kept their possessions – their lunch, water bottle, and supplies for their respective electives. We made sure foot traffic flowed smoothly and double checked, for example, that swimmers kept their wet towels off the floor, fishing poles were not leaning into the aisles, and the glittery, magenta picture frame "Mary" made in her Extreme Bedroom Makeover class didn't accidentally get put in "John's" bucket.
Both jobs gave us plenty of opportunity to talk, and I learned a lot about Christa as we served together. I learned how much she treasures her involvement in Light & Power and how her church friendships enrich her life. I found out that she loves volunteering and how doing so empowers her. I saw how she takes delight in using the gifts God has given her. I also learned that Christa is one of the most dependable people I've ever met. When she says she will do something or be somewhere, you can count on her to follow through; and if anything prevents her from meeting her commitment, she will go out of her way to let you know.
I discovered, too, that Christa's service extends beyond her volunteer work in TLC. In fact, she has volunteered at Lutheran Braille Workers (LBW) weekly for the past 20 years. Every Monday and every other Friday, she works in their Yucaipa office doing a wide variety of tasks. One of her favorites is to operate the Braille press machine. Often this entails producing handout sheets for LBW to use as examples of their Braille and large print services. For this task, Christa will be given a stack of papers that already have the Lord's Prayer or other Scripture copied in large print on them. She will then use the press machine to emboss each sheet with the identical text in Braille. Christa also enjoys filling out customs forms that are necessary to ship Braille and large print Bibles overseas. Her other jobs include collating pages and putting covers on large print books, stuffing envelopes for various mailings, and even helping to supervise large tour groups who might visit the facility.
Ever since our first camp job, I have been blessed to catch up with Christa almost every week at church. Often, we also "chat" on Facebook and she sometimes sends me cute cat videos. Recently, I sent her a message asking how she enjoyed the Light & Power shopping trip to Kmart; She told me the things she had bought and said she wanted to show me something at church on Sunday. I figured she meant something she had purchased on the trip and, sure enough, she did show me a pretty, new blouse. But it turned out that what she was most eager to share was a thank you card she had just received at the Braille office. It was a token of their appreciation for her two decades of service, signed by everyone there. She told me how surprised she was when she walked into work and was given the card. She was so touched by their gesture and was so proud of their acknowledgment of her service. I know the truth, though – she is far more of a treasure to those with whom she serves than anything given her in return.
By Sheryl Gruenler