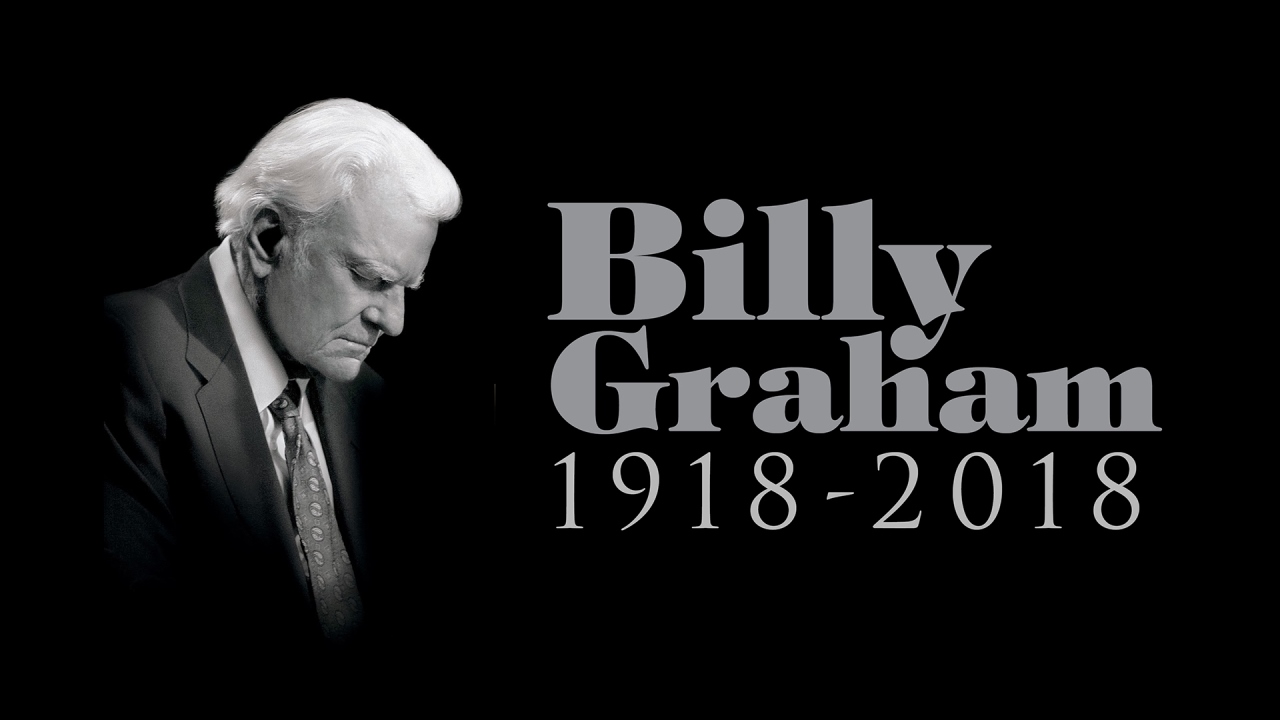 I just heard the news this morning that, at 99 years old, Billy Graham passed away. When you think about it, what an odd term – "passed away" – because though he did pass from this life that we are contained within, we know where he is and he has never been better off than he is now and forever at Jesus' side.
The Bible doesn't communicate that Billy Graham is in Heaven because of what a great preacher he was – that's not grounds for salvation. God isn't impressed with what we bring to the table because what we bring to the table all comes from Him anyway.
And the Bible doesn't communicate that Billy Graham is in Heaven because he didn't have any public moral failures – no matter how great or small his sinful behaviors were, they all merited the same consequence of deserving judgment from a holy Judge.
And the Bible doesn't communicate that Billy Graham is in Heaven because he was such a leader and humanitarian – there are many great people who lead well and who help people who are still lost without the hope of Heaven found in Jesus alone.
But the Bible does communicate that Billy Graham is in Heaven because of what a great Gospel that he responded to – Billy preached that Jesus was the only way to the Father because He was the Way, the Truth and the Life. And it was what Billy preached to others that he had first preached to himself:
"I am not going to Heaven because I have preached to great crowds or read the Bible many times. I'm going to Heaven just like the thief on the cross who said in that last moment: 'Lord, remember me.'" Billy Graham
Today, I wanted to write about Billy Graham because of the great ways God used him and because of his amazing spiritual legacy he's left in so many lives. But what I really want to communicate to you is that in order for Billy to be used by God so mightily, "normal people" – people like you and me – had to be intentional in the way that they prayed for and invited people to the crusades where Billy preached.
His Spirit-infused evangelistic success had multiple pieces that caused it to be so powerful in the hand of God and one major reason is that people who were concerned about the spiritual well-being of their family members, their friends, their co-workers, their neighbors – their relational worlds – were the ones that invited their worlds to come and see what God was doing through an evangelist from the hills of North Carolina.
If you're concerned or confused at times about how God can use you because you lack the evangelistic persuasion of someone like Billy Graham, then consider what you do have, that we all have. Consider the relational world that God has strategically, supernaturally placed you among and consider the five things that we talked about last fall that you can engage each and every day:
Make a list of the 8-15 people in your relational world
Pray for the people on your list
Invest in their lives with love and thoughtfulness
Invite them to entry-point opportunities that are provided for you and them
Continue to be prepared to live a life rooted in Jesus as you're reaching your world
This necessary piece of people being intentional influencers in their relational worlds allowed God to use Billy in such powerful ways. Will you do your part in how God would want to draw the people in your world to Himself?
Finally, I close with Billy's own words concerning his anticipation of what he's experiencing now and forever:
"No, I don't know the future, but I do know this: the best is yet to be! Heaven awaits us, and that will be far, far more glorious than anything we can ever imagine.
I know that soon my life will be over. I thank God for it, and for all He has given me in this life. But I look forward to Heaven. I look forward to the reunion with friends and loved ones who have gone on before. I look forward to Heaven's freedom from sorrow and pain. I also look forward to serving God in ways we can't begin to imagine, for the Bible makes it clear that Heaven is not a place of idleness.
And most of all, I look forward to seeing Christ and bowing before Him in praise and gratitude for all He has done for us, and for using me on this earth by His grace–just as I am." Billy Graham